Bishops
The Episcopal Church is "hierarchical," meaning that it has a top-down leadership structure. However, it is very strongly democratic in nature, because the people of the church (the "laity" or lay persons) have a say in major decisions such as electing bishops and choosing clergy.
Bishops are overseers; several have visited over the years. Our patron saint, Nicholas, was a bishop too, which is why he wears the distinctive clothing and headgear of a bishop in the early Christian church.
We were very proud and excited to welcome former Presiding Bishop Katharine Jefferts-Schori to St Nicholas some years ago. Here, she greets one of our parishioners, Earlene Ford.
---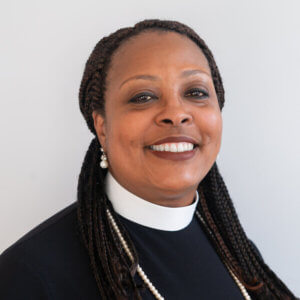 The Rev. Canon Paula E. Clark was elected on December 12, 2020 to be the thirteenth bishop of the Episcopal Diocese of Chicago. She will be the first Black person and the first woman to hold the position.
Clark was baptized into the Episcopal Church at age 10 by Bishop John Walker, the first Black dean of Washington National Cathedral and first Black bishop of the Diocese of Washington. She received her undergraduate education at Brown University and earned a Master of Public Policy degree from the University of California, Berkeley.
Clark, who currently serves as canon to the ordinary and chief of staff in the Episcopal Diocese of Washington, was chosen unanimously on the fourth ballot in an election conducted on Zoom from a slate originally composed of four candidates. She received 229 clergy votes and 284 lay votes.
Currently, health issues have prevented Bishop Clark from being consecrated as Episcopal Bishop of Chicago, and we remain under the leadership of the Standing Committee and our new Assisting Bishop Chilton Knudson. Read more about Bishop Clark and her family's health issues here.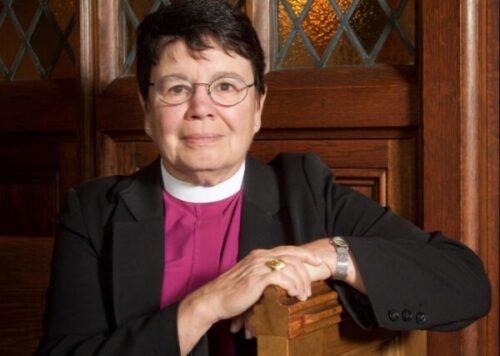 Bishop Chilton Knudsen became assisting bishop in the Diocese of Chicago in October 2021. Her responsibilities include congregational visitations, confirmations, ordinations, and pastoral care for the diocese's clergy and staff.
Read more about Bishop Chilton's ministry in the diocese.
Bishop Chilton began her ordained ministry in the Diocese of Chicago. She graduated from Seabury-Western Theological Seminary and was ordained a deacon by Bishop James Montgomery in 1980. In 1981, she was ordained a priest by Bishop Quintin Primo Jr. She served both St. Benedict's, Bolingbrook and Church of Our Saviour, Elmhurst before joining Bishop Frank Griswold's staff in 1987. In 1997, she was elected bishop of Maine, where she served from 1998-2008.
Since Bishop Chilton's retirement, she has served as interim or assisting bishop in six additional dioceses, including the Diocese of Washington, where she worked closely with Bishop-elect Paula Clark, who continues to recover from the cerebral bleed she suffered in April.
Bishop Chilton will maintain her residence in Maryland while spending the majority of each month in Chicago. While she serves with us, the Standing Committee remains the ecclesiastical authority of the diocese.
---
To learn more about our bishops and the Episcopal Diocese of Chicago, visit www.episcopalchicago.org
---
Clergy
Fr. Manny Borg – Vicar – Contact Manny Borg
Father Manuel "Manny" Borg is now the vicar of St Nicholas. He was previously an assisting priest here, and for a while he also served at St Michael's in Barrington. In 2011 he became our transition minister when the previous vicar, Fr. Steve Martz, left. Finally, we made it official in 2012 – what a year!
It's been a lot of fun as he's led us to do the hard work of discerning and learning who we are and who we want to be.
As they become available, Fr. Manny's sermons and his "extras" from the weekly newsletter will be gathered into the "Clergy Corner," a category in the church blog.
---
The late Fr. Paul Broullette – assisting priest
When ill health forced Father Paul to cut back on his scheduled preaching Sundays (and occasional banjo-playing gigs in church) we prayed for him (and sang). It was always a good Sunday when he brought his Pete Seeger model banjo with him to church to preach AND play. The last few Christmas Eve services were graced with Father Paul on guitar, accompanying choir and congregation during the singing of "Silent Night." Sadly, he lost his battle in 2012. He taught us lessons about living gracefully that we will remember always.
---
During a visit by Bishop Scantlebury for the Feast of St Nicholas in 2006, we went out into the neighborhood to get bags of groceries to stock the food pantry. A few people were surprised to find a bishop at their door, thanking them for their donations.
---
Music
We are lucky to have Mary Fletcher-Gomez as organist and choir director. Mary is well known in Chicago choral and operatic circles as a singer, teacher, and voice coach. She was instrumental (pun not intended) in ensuring that St Nicholas got the best quality electronic organ that we could, so that we could offer a full music program. With Mary's guidance, St Nicholas is building a reputation for excellence in choral and instrumental music during worship services.
St Nicholas Parish Choir (whose members sing at Sunday services and rehearse each Wednesday at 6:45pm) has a deep repertoire of pieces to draw on for worship and for special services. For choir members, Christmas begins in August, and Easter begins right after New Year's Day. Choirmistress Mary plans choral and solo pieces as much as a year in advance, and is always eager to introduce the choir to new and more challenging music. All for the greater glory of God, it's said that singing is praying twice.
Contact Mary Fletcher-Gomez