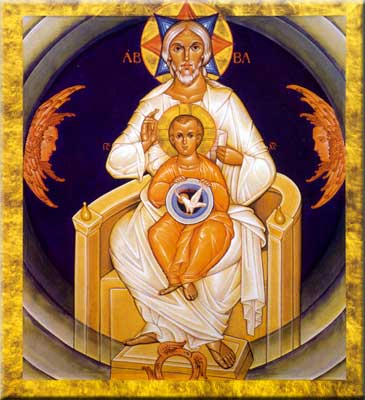 The supreme happiness of life is the conviction that we are loved – loved for ourselves, or rather, in spite of ourselves. — Victor Hugo
Our annual meeting is today. Bring some food to share.
Come and celebrate with us as we enjoy a potluck and our annual meeting. There is so much to be grateful for – and even more to look forward to! We'll talk about the reorganization of our leadership and governing structure to facilitate our growth during the coming year. We'll have a lot to say about our building addition. And of course, there will be food – please bring a main dish, side dish, dessert, or salad to share. Drinks also are welcome – but remember we do not use alcohol at our church functions. (Note the change from previous announcements.)
Most of all, we need your input. There will be a chance to review the first five months of our new congregation and to hear everyone's feedback. We'll also revisit the question of the name of our parish. When we merged, we agreed "St. Nicholas with the Holy Innocents" would be our provisional name, as there was no clear consensus about a new name. But it is a mouthful and so we will check in to see if there is sentiment for keeping it; or if you would prefer to choose a new name altogether. If we are going to change it, this year is the time to do it. So please make every effort to be present. This is too important a decision to make without a lot of reflection and input.
We'll meet immediately following the 10 a.m liturgy – I guarantee a short homily – and go for no more than 90 minutes.
Hit the right notes by being on time.
On many of our summer Sundays, we'll spend the first few minutes practicing music so we can sing more wonderfully as a congregation. Unfortunately, many of us are accustomed to arriving a few minutes after the hour, which makes it difficult to practice as a congregation. But maybe we can pretend our summer worship begins at 9:55 and be ready to go at 10. Thanks for trying.
Elk Grove Parade. Sort of like Halloween.
The annual Elk Grove Village Parade is coming up fast – Saturday, June 16 at 6 p.m. The Village has adopted a Saturday Night at the Movies Theme and we are going to have some fun with that. We are asking each of you – young AND old – to come dressed as one of your favorite movie characters. Bill Barlow has graciously agreed to reprise his role as St. Nicholas, we've got great signage, and we are ordering more Frisbees. They were a big hit last year, so why not? Let's have some fun that night and show our neighbors our spirit!
Summer book club.
I am going to lead discussions of two books this summer and combine these with a potluck at my house.
1. Sunday, July 15, 4:30-7:30 p.m. — The Ten Commandments: Laws of the Heart, by Joan Chittister. The well know retreat leader, speaker, and liberal nun looks at what the 10 commandments mean for us as we seek to live in the image and likeness of God.
2. Sunday, August 26, 4:30-7:30 p.m. – Take This Bread: A Radical Conversion, by Sara Miles. One day Miles, a longtime atheist, walked into church, took communion, and began crying. Now a member of St. Gregory of Nyssa, an Episcopal church in San Francisco, her spiritual memoir tells the story of a young woman whose spiritual journey is quite remarkable. Her book will invite us all to reflect on our own journeys.
Both will be enjoyable reads. The Miles book is longer, so I'm giving you lots of time to locate a copy. If you can't get these books from your local library, both are available through Amazon.com at well below list price. And if you buy both at the same time, you are eligible for free shipping – just remember to select it, or Amazon will charge you their standard shipping rate.
Summer adult ed group.
Our adult ed group, which has been considering the world religions, is seeking feedback about summer meetings. They are proposing meeting every third Sunday at 9 a.m. The Sundays they are proposing are June 24, July 15, August 5, and August 26, but they are open to other ideas. The group recently wrapped up the discussion of Hinduism and would like to move on to Native American religions. If anyone is interested in leading that discussion, let Steve Gruenwald — SteveG@swhi.net — know; otherwise he will prepare the information.
What's your story?
One of my projects in the coming months is to help us as a congregation tell our story more effectively. We do this in many ways and one way is through some great stories on our web site from members who share what led them to the parish. But we need more. Lots more. Would you consider adding yours? I would be happy to help you write or edit it, or if you don't want to write it yourself, I will interview you and write it for you. Thanks!
Lift every voice and sing…your favorite hymns.
And to find out what those are, Mary has prepared a survey that will be available in church this week. To get a head start, begin thinking of your 5 most favorite hymns, and 3 that you wish we'd never sing.
Summer choir schedule.
Choir rehearsals will be at 9 each Sunday.
Rummage sale. Time to really start planning.
We need your furniture, clothing, and lots more for our annual rummage sale, which will occur this year in July. We'll take most anything you've got, but what we really crave most of all are "big ticket" items like furniture, because they will help us reach our goal faster than anything else.
Don't forget the hungry.
Don't forget to bring one or more non-perishable items each Sunday. Place what you bring on or beneath the table just inside the worship space so it can be part of the offertory.
Schedule of events for the coming week:
Sunday the 3rd
Worship at 10
AA meets at 7:30 p.m.
Monday the 4th
AA meets at noon
AA meets at 7 p.m.
Tuesday the 5th
AA meets at noon
AA meets at 7 p.m.
Wednesday the 6th
Bishop's committee meets at 11 a.m.
AA meets at noon
Thursday the 7th
AA meets at noon
GA meets at 7 p.m.
Friday the 8th
Pray for Steve's success on his thesis exam, 10:30 – noon.
AA meets at noon
Saturday the 9th
AA meets at 1 p.m.
AA meets at 8:30 p.m.
Sunday the 10th
Worship at 10
One bread, one body: some comments on summer worship.
The next few months offer us a great opportunity to strengthen our bonds with one another, as we begin several months of single liturgy Sundays. What this means liturgically is that things will feel a little different for everyone.
Summer music will focus on familiar favorites, although since we have brought together two congregations whose favorites may differ a bit, we will all be learning some new hymns. As has been my custom in recent summers at St. Nicholas, we'll have more selections from the 1982 Hymnal than Gather.
There are two places that our 9 o'clockers will feel a difference. The summer intercessions will come from a variety of Anglican Prayer Books. Second, the opening acclamation is an approved acclamation not contained in the Prayer Book. Both of these "changes" give us a chance to experience our tradition more fully.
There are two places our 11 o'clockers will feel a difference. One is that the Our Father will appear at its designated place in the liturgy rather than after the Intercessions. The other is that the post-communion prayer will come from the prayer book instead of being composed to reflect each Sunday's readings. Both of these "changes" also give us a chance to experience our tradition more fully.
What I am seeking liturgically during the summer is to blend the two liturgies. While for purists, this is always difficult, and I know already that those who are fed by formal liturgy will find the summer too informal, while those who are accustomed to informal and more relaxed liturgy will find summer worship too formal. But I believe it is important for our congregation to focus this summer on our common bonds and deepening relationships in ways that help us become truly ONE congregation and I believe that is what most of you want, too.
Finally, I am using "real bread" for our summer worship, because of my belief that the symbols of our worship should be visible and substantial. (Any surprise we have the largest baptismal font in the Diocese?) At the same time, for those accustomed to wafers, I will consecrate some of those as well and you can simply let me know that you prefer to receive a wafer.
As we move back into the Fall, my goal is to strengthen the strengths of both liturgies. What I mean by that is that I hope we can make the 9 a.m. liturgy a classic expression of a mainstream, high-church Episcopal liturgy. At the same time, I hope the 11 a.m. liturgy can become more cutting edge and experimental, while continuing to be rooted in the Anglican way of being. But our success in both endeavors depends on you. I can't do anything alone nearly so well as we can do it together. So don't be shy; liturgy is the work of the people, and I need and want your help!
Any feedback you have on the liturgy or other matters will be gratefully received.
Lots of love,
— Steve