In a new series for the parish website, I hope to highlight online resources and websites that some of our members may not know about. One of the best is the Daily Office Blog, which is published online and includes Morning and Evening Prayer and the collect for every day, plus occasional images from the news that act as focal points for prayer. Today's includes a photo of the terrible fire that took Emmanuel Temple AME Church in Chicago, followed by an excerpt of the full entry.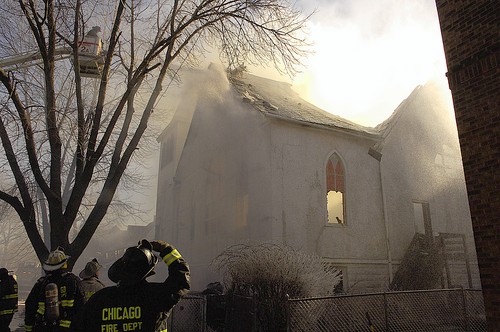 Something horrible: Emmanuel Temple AME Church on fire on the west side of Chicago. (Chicago Tribune)

I will give you as a light to the nations, that my salvation may reach to the end of the earth. Isaiah 49:6b

INVITATORY & PSALTER

Lord, open our lips,
And our mouth shall proclaim your praise.

Glory to the Father, and to the Son, and to the Holy Spirit:
as it was in the beginning, is now and will be forever. Amen.

The Lord has shown forth his glory: Come let us adore him…
You can subscribe to the RSS feed for The Daily Office Blog by using a "feed aggregator," such as Bloglines or Googlenews.