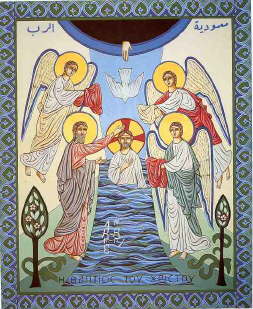 You can give without loving.
But you cannot love without giving.
— Amy Carmichael
Everyone has his own specific vocation or mission in life;
everyone must carry out a concrete assignment
that demands fulfillment.
Therein he cannot be replaced,
not can his life be repeated,
thus, everyone's task is unique
as his specific opportunity.
— Victor Frankl

The introverted church is one which puts its own survival
before its mission,
its own identity above its task,
its internal concerns before its apostolate,
its rituals before its ministry.
Undue emphasis on the static structure of the Church
has led to the disappearance of a significant lay ministry
in denominational Protestantism.
— Gibson Winter
S u n d a y S c h e d u l e:

9 a.m. — Worship
10 – Formation Sunday
11 – Worship
Children's liturgy and homily this Sunday

…at the 11 a.m. liturgy. The homily is titled, "Too Dry."
Adult Education
We will continue this week with our series on "Celebrating Our Anglican Heritage." In preparation for the consecration of our new bishop, Jeff Lee, and the visit of the Presiding Bishop, we will be looking at the ministry of bishops within the Anglican tradition. We'll look at how the role of the bishop has changed over the centuries, and what it means to be a bishop in the Church today. For those intending to attend the consecration of Jeff Lee on Saturday, February 2, this will provide a good grounding in the history, theology, and liturgy that we will experience on that day. –ethan.
The Contemporary Spirituality group will also continue its fascinating discussion of Mormonism from last week.
New liturgical season, new seating arrangement
This Sunday we begin the season after Epiphany and so we return to our most familiar seating arrangement. But with a twist. It won't be completely familiar. That's because we have flipped the altar from the west wall to the east. That will enable us to utilize more of the space for seating when the presiding bishop comes. More importantly, it is a more effective use of our space. Not only does it neutralize the slanting wall that separates the worship and gathering spaces, it also allows us to avoid gazing into the glare of southern light. I think most will see it as an improvement, but please let me know what you think — 1bread1body@sbcglobal.net
As an aside, I want to thank all those who have labored so hard already to make our church building shine. I don't know when the church last looked as good as it is beginning to look — and we are just beginning. I am sure you will be surprised and pleased this Sunday at how much has been accomplished since you left last Sunday. The gathering space alone has been significantly transformed as St. Nicholas pride is showing through in yet another area of our common life.
"The Magnetic Church."

That's the title of a Friday, February 8 and Saturday, February 9 conference sponsored by the Diocese of Chicago. The bishop's committee invites those interested in evangelism – we call it Inviting – to attend this useful conference. To be sure, we excel in several of the areas to be covered, but the material on greeting newcomers and managing growth should give us some fresh ideas. If you'd like to attend, let Mary Anne O'Rourke know asap – mor1313@yahoo.com
PRESIDING BISHOP'S VISIT 2.3.08
As we prepare for the visit of our presiding bishop, Katharine Jefferts Schori, on Sunday, February 3, both the bishop's committee and I ask for your help.
There are many things to do to prepare for her visit. There are two ways you can help.
1. Volunteer to do one or more of the tasks on the list you have received. You can let me know at 1bread1body@sbcglobal.net if you are able to help with any of these tasks.
2. Stay after church for 30-60 minutes this Sunday to help with administrative and other tasks. On Sunday, January 20, we'll do our "deep cleaning" and follow that up the next week with a less intense reprise.
3. Looking ahead to February 3 itself, we are asking as many of you as possible to arrive at 7:30 for final preparations. We advise all parishioners to arrive no later than 8:30 to get settled and be assured of a seat. Finally, we are asking all of our people to park in the school lot that day so that guests will be able to park closer to the building.
4. Snow removal. If there is snow on Saturday, February 2, we would like to have someone to plow the lot. If you have a friend who does that, let me know — 1bread1body@sbcglobal.net – and should it snow that day, bring a shovel with you on Sunday. Thanks!
Annual meeting is also on February 3
After the presiding bishop departs and we have some time to be hospitable to our other guests, we will hold our annual parish meeting at about 11:30. Given the hectic nature of the earlier part of the day, this will not be a potluck but will be catered and will not last more than 75 minutes.
AND ON FEBRUARY 2, DON'T MISS . . .
The day before Bishop Katharine comes to St. Nicholas, she will be consecrating Jeff Lee as our new diocesan bishop. This will be a joyous event and we hope many from our parish will be able to attend. In the next week or so we will gauge likely attendance and you can help us do this by signing up at church or by responding to Steve at 1bread1body@sbcglobal.net
Could you help with occasional respite care for a single mom?
There is a single mom with two elementary age children who could use some occasional help in the form of taking her kids for an occasional Saturday to give her time to replenish her batteries. Two families have stepped forward. I would be grateful for one or two more. Please let me know at 1bread1body@sbcglobal.net THANKS!
Only an icon and a half left: help put us over the top.
We soon will be adding 10 icons of women saints to the brick wall behind the statue of Mary. Your response to this project has been generous and we are within about $200 of our $1,450 goal. Can you help put us over the top with a donation today? Checks can be placed in the collection basket, with "icon" noted on the memo line. Thanks!
Gifts for the presiding bishop.
Contributions for gifts to the presiding bishop will be gratefully accepted. Gifts are expected to cost perhaps $600-700 and as previously reported, they will come from our various ministries and commitments, including:
From the whole congregation – an icon of Nicholas
From our senior ministry – a prayer blanket
From our AA commitment – a signed copy of the Big Book
From our children – a specially made banner
From our interfaith adult formation group – a book
From our choir — tba
From our Second Family program – funding of five AIDS orphans' education for one year
From our Food pantry – purchase of a stove for a family in a developing country
From our Garden of Eden – a vegetable basket
From our LGBT meet-up group — a dvd
From our inner life commitment – a book
Food Pantry.
Help replenish the food pantry by bringing one or more non-perishable items each Sunday. Particularly needed right now are paper goods: toilet paper, paper towels, Kleenex.
Bishop's committee report.
Minutes of the January 9, 2008 meetiing.
Present: Jewett, O'Rourke, Kalicki, Borg, Brouillette, Martz, Taylor, Martin, Dave Fleer
Absent:
There were no official actions, but there was a brief discussion of the annual meeting and a summer outing to the Schaumburg Flyers.
There was an extended discussion of preparations for the visit of the presiding bishop, following the task list all parishioners have received. While the bishop's committee is extremely pleased with the offers of help and the many tasks already completed – the church is looking great ! — we will continue to need your help with items of the list.
Help with Yummy Hour.
The Welcoming Team is seeking volunteers to help provide snacks for the social gatherings after both the 9 and 11 a.m. liturgies. We ask that the same person(s) cover both the 10 a.m. and noon gatherings. Set up snacks, regular and decaf coffee, and a pot of hot water for tea. Sugar, creamer, cups, napkins, and stirs are in the cabinets in the Gathering Space while coffee and coffee pots are in the kitchen. Let's all get involved!
There is a sign up sheet in the church – AND you can sign up online by picking one of the available dates and emailing your choice to Manny: vanborg@sbcglobal.net
Here's the schedule to choose from:
January 20 – volunteers needed
January 27 – handled
February 3 – cake provided
February 10 – handled
February 17 – volunteers needed
February 24 – volunteers needed
Schedule for the 10 a.m. hour
Our schedule for the 10 a.m. hour is:
First Sunday of the month – Celebration Sunday; the 10 a.m. hour will be devoted to connecting.
Second Sunday – The Celebrating our Anglicanism series will now meet on this Sunday.
Third Sunday – Ministry Teams will meet on this day instead of on the Fourth Sunday.
Fourth Sunday – The series on major figures of the Hebrew Scriptures will meet one Sunday per month instead of two.
One bread, one body: all you need is love

Sometimes things that usually seem routine suddenly become occasions of surprise and wonder. That happened for me this past Sunday, twice – and both times when we celebrated birthdays and anniversaries, as we do on the first Sunday of each month. I always enjoy this celebration, but it seldom moves me in the ways it did Sunday.

At the 9 a.m. liturgy, Erlene and Vernon came forward to celebrate their anniversary, and as I said words of blessing over them, I felt very deep emotion well up inside me. That's because they embody for me a very special kind of love and courage. I was much inspired by Erlene's donation of a kidney to Vernon last June. I remember well journeying to Madison shortly after the surgery and being surprised at how well they both looked. I have been overjoyed for them as I've watched Vernon become so strong and healthy in the months since the transplant. Given all that, I guess it is no wonder I found the moment incredibly wonderful and particularly joyful.

At the 11 a.m. liturgy, I had another strong and deeply emotional experience, when three couples – Lindsay and Meghan, Douglas and Manny, and Jon and Kurt – came forward. As I blessed their love, and all of you gathered around me to participate, I felt joy burning within me. What a beautiful milestone it was. Not because we were celebrating the anniversaries of three same-sex couples – though that was pretty cool — but because we were celebrating the anniversaries of three couples we love!

All that mattered was love.

When a community really gets this simple truth – all that matters is love, in all its varied and unpredictable forms – the gospel is alive in it and it is bringing the gospel to life. We get it here at St. Nicholas. Because we do, I expect the routine will more and more be an occasion for wonder, and the extraordinary will more and more be revealed through the ordinary.

With love,

Steve
Our schedule this week
Sunday, January 13, 2008
The Feast of the Baptism of the Lord
Worship at 9 & 11 a.m.
Formation at 10
AA meets at 7:30 p.m.
Monday
AA meets at noon
Tuesday
AA meets at noon
AA meets at 7 p.m.
Wednesday
Bishop's Committee at 11 a.m.
AA meets at noon
Choir meets at 7 p.m.
Thursday
AA meets at noon
GA meets at 7 p.m.
Friday
AA meets at noon
Saturday
AA meets at 1 p.m.
AA meets at 8:30 p.m.
Sunday
Worship at 9 & 11
Ministry teams meet today at 10