News from St. Nicholas Episcopal Church
Sunday, January 20, 2008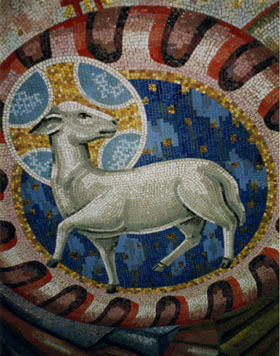 Lamb of God mosaic
in the Blessed Sacrament Chapel
in Westminster Abbey, London
Jesus said that where our treasure is,
there our heart would be also.
If our spending patterns, then, are an indicator of where our heart is hot and where it is not, at what level would missions register compared to soft drinks?
— John and Sylvia Ronsvalle
Mission is not the kindness of the lucky to the unlucky; it is mutual, united obedience to the one God whose mission it is.
— 1963 Anglican Manifesto:
"Mutual Responsibility and Interdependence
in the Body of Christ"
The Presiding Bishop at St. Nicholas
As we prepare for the visit of our presiding bishop, Katharine Jefferts Schori, on Sunday, February 3, we need your help.
NEWS FLASH – The presiding bishop will be with us for an extra half hour. Her original flight plans required her to be on her way by 11 a.m., but we learned this week that she will be able to be with us until 11:30. This will give us an opportunity to hold a less rushed, more relaxed reception.
1. Help prepare for her visit by volunteering to do one or more of the tasks on the list you have received – respond to 1bread1body@sbcglobal.net – OR stay after church for 30-60 minutes this Sunday to help with our "deep cleaning" and follow that up the next week with a less intense reprise.
2. Help on February 3 itself by arriving at 7:30 for final preparations. We'll be busy with last-minute spruce-ups, light cleaning, lighting candles, etc.
3. Be sure on February 3 to arrive by 8:15 to get settled and be assured of a seat.
4. Park in the school lot that day to show hospitality to our guests.
5. In the event of snow, bring snow blowers, shovels, etc., to help clear the lot.
6. Bring people. This is a golden opportunity for evangelism. Certainly, there will be many visitors simply from the publicity we are doing, and we all have friends and family members we will want to bring to show off our church at its best. But most of all please zero in on some people you know who need what we have to offer. Think of friends who are unchurched or feel disenfranchised in the church or yearn for a warm, inclusive, accepting church. Then invite them. If we are diligent about inviting all kinds of folks, Bishop Katharine's lasting gift to us will be a larger, more dynamic church.
Only Half an Icon Left:
Last Call for Women Saints

We soon will be adding 10 icons of women saints to the brick wall behind the statue of Mary. Your response has been generous, and we are now within about a half icon ($75-100) of our $1,450 goal. This is the last week this announcement will appear, so if you'd like to help, act now. Checks can be placed in the collection basket, with "icon" noted on the memo line. Thanks!
Could You Help With Occasional Respite Care?
There is a single mom with two elementary age children who could use some occasional help in the form of taking her kids for an occasional Saturday to give her time to replenish her batteries. Two families have stepped forward. I would be grateful for one or two more. Please let me know at 1bread1body@sbcglobal.net Thanks!
Food Pantry

Help replenish the food pantry by bringing one or more non-perishable items each Sunday. Particularly needed right now are paper goods: toilet paper, paper towels, Kleenex. The photo shows a couple of our younger parishioners celebrating another successful "grocery bags for the needy" food drive. Thanks, neighbors!
Help with Yummy Hour

The Welcoming Team is seeking volunteers to help provide snacks for the social gatherings after both the 9 and 11 a.m. liturgies. We ask that the same person(s) cover both the 10 a.m. and noon gatherings. Set up snacks, regular and decaf coffee, and a pot of hot water for tea. Sugar, creamer, cups, napkins, and stirrers are in the cabinets in the Gathering Space, while coffee and coffee pots are in the kitchen. Let's all get involved!
There is a sign up sheet in the church – AND you can sign up online by picking one of the available dates and emailing your choice to Manny: vanborg@sbcglobal.net
Here's the schedule to choose from:
January 20 – volunteers needed
January 27 – volunteers needed
February 3 – cake provided
February 10 – volunteers needed
February 17 – volunteers needed
February 24 – volunteers needed
March 3 – cake provided
March 10 – volunteers needed
March 17 – volunteers needed
March 24 – volunteers needed
Bishop's Committee Report
Minutes of the January 16, 2008 meeting.
Present: Jewett, O'Rourke, Kalicki, Brouillette, Martz, Taylor, Dave Fleer
Absent: Borg, Martin
During the week since last meeting, a resolution was unanimously passed by e-mail authorizing the expenditure of up to $2,000 for the upgrading of our sound system. This will allow us to be wireless on most Sundays and, in particular, will allow the purchase of additional headsets. so that, in addition to the presider, the voice of the preacher and proclaimer of the gospel will also be amplified.

The following actions were taken:

A resolution designating $30,000 of Steve's compensation as housing allowance under the IRS code was passed. The resolution will be in effect in 2008 and all subsequent years unless amended. This same resolution was previously passed at a June 2007 meeting.

The 2008 budget was presented and approved unanimously. It will be distributed to the congregation shortly.

A motion to approve expenditure of $260 for an e-mail service that will improve our weekly email was passed. (You should be seeing the new, improved look as you read this). [Blog editor's note: via HTML-enabled email, the new look is beautiful!]

We agreed by consensus to hold the official annual meeting on February 10 in a brief format and to hold a more extensive parish gathering a month later.

The bulk of the meeting was spent carefully reviewing preparations for the visit of the presiding bishop. We have made a great deal of progress on our goals for the visit and expect to be well prepared when she arrives.
The Day Before, Don't Forget . . .
The Consecration of Our New Bishop

The day before Bishop Katharine comes to St. Nicholas, she will be consecrating Jeff Lee as our new diocesan bishop. This will be a joyous event, and we hope many from our parish will be able to attend. In the next week or so we will gauge likely attendance, and you can help us do this by signing up at church or by responding to Steve at 1bread1body@sbcglobal.net
Gifts for the Presiding Bishop
Contributions for gifts to the presiding bishop will be gratefully accepted. Gifts are expected to cost perhaps $600-700, and as previously reported, they will come from our various ministries and commitments, including:
From the whole congregation – an icon of Nicholas
From our Nurturing Team ministry – a prayer blanket
From our AA commitment – a signed copy of the Big Book
From our children – a specially made banner
From our interfaith adult formation group – a book
From our choir — (technical difficulties, please stand by: the choir has a Plan B!)
From our Second Family program – funding of five AIDS orphans' education for one year
From our Food Pantry – purchase of a stove for a family in a developing country
From our Garden of Eden – a vegetable basket
From our LGBT ministry – a DVD
From our inner life commitment – a book
We hope you will sign the icon of St. Nicholas that we will present to Bishop Katharine. It's at the church waiting your "John Hancock" (but it's not that big an icon, so don't get so carried away as John)!
Asbury Court Healing Liturgy
On Saturday, January 19, St. Nicholas will be offering an Ecumenical Service of Healing for all residents of Asbury Court at 10:30 a.m. This worship service will take place in the chapel area at Asbury Court, 1750 South Elmhurst Road (corner of Oakton and Elmhurst) in Des Plaines.
Whether you plan to have a leadership role in the service or just be with us, please join our Nurturing Team as we gather to worship God in song, hear God's saving word, pray for those in need, and receive the sacrament of anointing. St. Nicholas is offering this and similar forms of worship at Asbury Court on the third Saturday of every month.
"The Magnetic Church"
That's the title of a Friday, February 8 and Saturday, February 9 conference sponsored by the Diocese of Chicago. The bishop's committee invites those interested in evangelism – we call it Inviting – to attend this useful conference. To be sure, we excel in several of the areas to be covered, but the material on greeting newcomers and managing growth should give us some fresh ideas. If you'd like to attend, let Mary Anne know ASAP at mor1313@yahoo.com
Schedule for the 10 am Hour
Our schedule for the 10 a.m. hour is:

First Sunday of the month – Celebration Sunday; the 10 a.m. hour will be devoted to connecting.
Second Sunday – The Celebrating our Anglican Heritage Series continues its exploration of what it means to be Anglican.
Third Sunday – Ministry Teams will meet.
Fourth Sunday – The series on major figures of the Hebrew Scriptures will meet one Sunday per month instead of two.
Annual Meeting is Moved
Given the increased length of the day, all the work necessary to prepare for the presiding bishop's visit, and the importance of being good hosts to our guests, the bishop's committee has decided not to hold the annual meeting on February 3. Instead, we will hold a brief meeting at the end of each liturgy on February 10 to allow us to elect a bishop's committee and wardens for 2008. (If anyone would like to be on the BC, let me know at 1bread1body@sbcglobal.net) We'll the hold a more leisurely meeting in March.
2007 Contribution Statements
The 2007 End of Year Contribution Statements are on the shelf just outside of the worship space. Please pick up your statement and save on the cost of postage for St. Nicholas. — Thank you, Laura.
One Bread, one body: a great space for prayer
Thanks to all of you for all you have done so far to make St. Nicholas shine. Because of its post-modern "unconventionality," we sometimes lose sight of what a beautiful, prayerful building we have. But when we de-clutter it a bit, thereby letting its minimalism speak to us, its monastic simplicity is revealed. I love walking into it – and worshipping in it.

Last Sunday, the building still felt a bit awkward as we reconfigured the liturgical space for the Epiphany season but did not yet have a full backdrop for the altar or a final positioning for the lectern. The cloth backdrop is largely complete and I love the way the soft fabric plays off the hard concrete and brick. This is a great liturgical space!

This Sunday, we'll get the icons back up, get some cobwebs down, do a bit of painting here and there, eliminate a bit more clutter, and fall in love with our church building – and community – yet again.

And again, thanks for all you are doing.

With love,

Steve
Our Schedule This Week
Sunday, January 20, 2008
Worship at 9 & 11 a.m.
Children's Formation at 10
Ministry Teams at 10
AA meets at 7:30 p.m.
Monday
AA meets at noon
Tuesday
AA meets at noon
AA meets at 7 p.m.
Wednesday
Bishop's Committee at 11 a.m.
AA meets at noon
Choir meets at 7 p.m.
Thursday
AA meets at noon
GA meets at 7 p.m.
Friday
AA meets at noon
Saturday
AA meets at 1 p.m.
AA meets at 8:30 p.m.
Sunday
Worship at 9 & 11
Children's Formation at 10
Adult Formation at 10